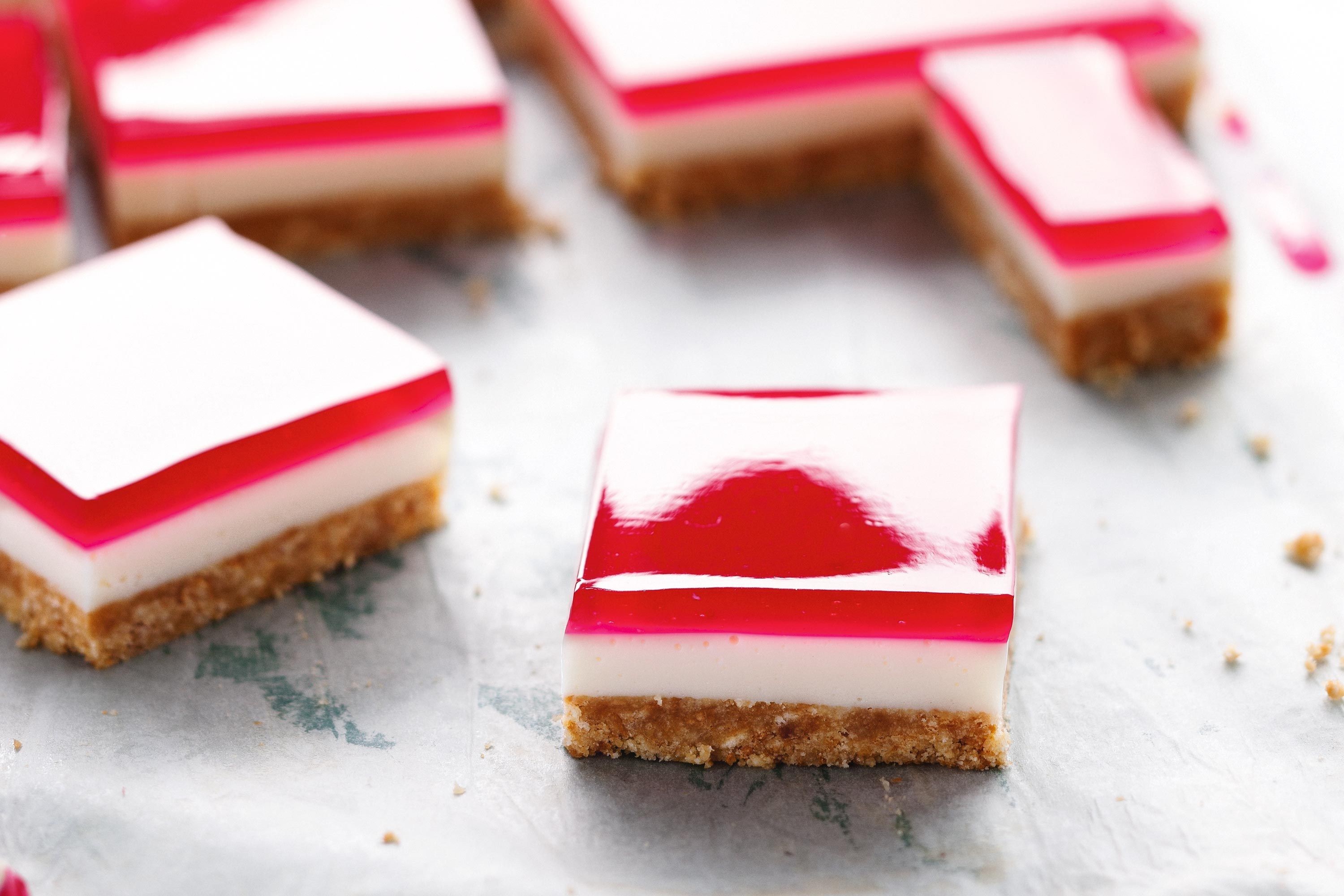 Makes 30 slices 10 x 4 cm using a 16" x 12" lamington tin.
Alternatively you can half the recipe and use a 12" x 8" tin.
Ingredients:
Base
700g Bake & Deco Biscuit Crumbs
500g Unsalted Butter
Middle Layer
4 cans Condensed Milk
400ml Lemon Juice (about 8 lemons)
160ml Cold Water
2tbs Gelatin Powder
Jelly Layer
340g Strawberry Jelly Crystals
700ml Boiling Water
500ml Cold Water
Method:
1. Lightly spray a 16" x 12" lamington tray and line with 2 sheets of baking paper, spraying again in between sheets, make sure to have the baking paper long enough to overlap over both ends.
2. Melt butter and mix well into the biscuit crumb then press firmly into the base of the tray. Place tray in fridge.
3. Juice lemons to make 400ml.
4. Sprinkle the gelatin powder over the 160ml of cold water and put aside for the gelatin to bloom (5-10 mins).
5. Place the 4 cans of condensed milk into a large mixing bowl along with the lemon juice and mix together with a whisk. Microwave the gelatine mixture on high for about 45 second or until the mixture is runny and hot. Whisk the condensed milk and lemon juice as you pour on the geline mixture, making sure it is all well combined.
6. Pour mixture over biscuit base and spread (sliding tray back and forth while it is flat on the bench usually works well). Place back in the fridge.
7. It is probably a good idea to place the slice tray on top of a baking tray if you have one big enough incase the jelly spills out of the tray. Place jelly crystal into a 2 ltr jug, pour the 700ml of boiling water over the jelly crystals and stir until dissolved. Add the 500ml cold water (5ml of liquid food colouring and be added to make the colour more vibrant). Using the back of a spatula, pour the jelly over slice and place back into the fridge. It's also easier to pour the jelly layer on whist the tray is still in the fridge.