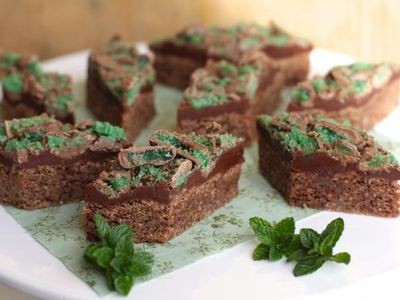 Makes 30 slices 10 x 4 cm using a 16" x 12" lamington tin.
Alternatively you can half the recipe and use a 12" x 8" tin.
Ingredients:
Base
1kg Bake & Deco Biscuit Crumbs
12 Nestle Peppermint Crisps
90g Cocoa Powder
3 cans Condensed Milk
375g Unsalted Butter
3-5 drops Robert's Confectrionary Peppermint Oil
Top Layer
125g Copha
1 crushed Peppermint Crisp
Method:
1. Spray and line lamington tray with baking paper long enough to overlap both ends of the tray.
2. Break up 12 peppermint crisps into quarters just using your hands and place into a large mixing bowl along with the biscuit crumbs and cocoa powder and mix until combined.
3. Put condensed milk and butter into pot and heat until all butter has melted and combined.
4. Pour condensed milk and butter mixture onto biscuit mixture and stir through with a spatula until well combined. Add a few drops of peppermint oil to your desired taste. Pour mixture into prepared tray and press firmly into tray and allow to cool.
5. Melt the copha in a pot over low heat. Once the copha has melted, add the milk chocolate then remove from the heat and stir until all chocolate has melted (it is best to use a good quality chocolate). Return to heat and stir continuously if needed to melt the chocolate.
6. Pour over top of slice. Allow chocolate to set then score the chocolate where you would like to cut it before refrigerating. Sprinkle with crushed peppermint crisp.